New to Instagram
Hi there
To all you people that like Card Crafting.
we are a small independent craft shop Gillies Crafts here in Ellesmere port. Not used Instagram before so just to introduce ourselves. We sell all things to make you Handmade cards, from card & paper to dies, Stencils, Die Cutting Machines & a wide range of Accessories to suit, we also have a selection of Gifts for those occasions.
If you have seen us when you have been driving passed but never popped in there is a car park 100mtrs from the shop 50p for about 4hrs or there is a Train Station by the same car park, should be long enough to browse, We also have craft classes & if you ever thought of starting to make cards but never tried why not sign up to a class. £6.00 from 1.00pm – 3.00pm everything you need is provided including Refreshments plus Cakes & Biscuits as well. Just send us an email or gives us a call for details.
If your not a crafter but know someone who is then please feel free to pass our details or even like them into the posts for us, we will be more than happy to see.


Thanks!!
Gill & Mike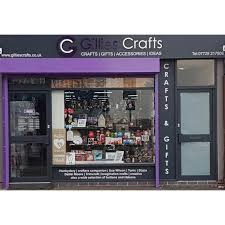 Gillies Crafts
28 Whitby Road, EllesmerePort, CH65 8AE
Mobile: 07729217906
Shop: 0151 513 2722