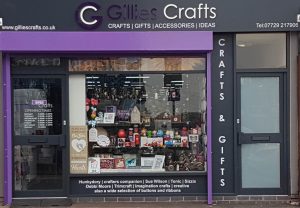 Address:
28 Whitby Road, Ellesmereport, South Wirral, CH65 8AE.
Tel No: 0151-513-2722, Mobile No: 07729217906
About Us:
Just to keep you all posted!!!!   we have now moved form Chester Indoor Market to a Brand-New Shop with more space & a larger range of products. we have been open since  mid July 2017,Please show your support & come along. There is Train Station 5 minutes' walk, a Car Park 3 minutes' walk & a Bus Station 3 minutes' walk all within easy reach. We are on the Main Road through the center of town.
We have a large range of products ranging from Hunkydory, Crafters Companion, Debbi Moore, Tattered lace to mention a few.
Paper Craft kits, Cd Roms, Magazines, Cutting Dies, Ribbons & an impressive range of Craft Buttons a must see.
I would be only too happy to see you @the store or the website. So please take a look around & mail me if you like.
Regards
Gill